Check Out the New 2013 MX-5 Miata From Joe Myers Mazda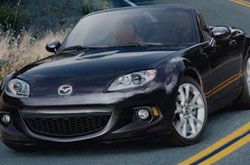 To begin reading Joe Myers Mazda's 2013 MX-5 Miata review, scroll down below the video. We are a premier Mazda dealership in Houston, and it's our job to equip you with Mazda reviews recorded by some of the most striking automotive writers in the industry. Every article comes crammed with practical information, specs and research - just what you need to make sensible decisions on your next Mazda MX-5 Miata purchase. What are you waiting for? Watch the video below or start reading the 2013 MX-5 Miata review below!
Take a Look inside the Mazda MX-5 Miata
Specs & Features Bullet List
By examining the 2013 Mazda MX-5 Miata next to the 2013 Ford Mustang, Mini Cooper and the Fiat 500, and you can see that the MX-5 Miata wins over those autos in several zones. Check out the hightlights below.
2013 Mazda MX-5 Miata MSRP: $23,470
2013 Mazda MX-5 Miata Seats: 2 passengers
2013 Mazda MX-5 Miata 0-60 MPH in 7.3 seconds
2013 Mazda MX-5 Miata Cargo Space: 5.3 cubic feet
2013 Mazda MX-5 Miata MPG: 22 city / 28 highway
2013 Mazda MX-5 Miata Body Style(s): coupe
2013 Mazda MX-5 Miata Colors: Copper Red, True Red, Dolphin Gray, Sparkling Black, etc...
Houston Mazda Shoppers: Learn About the 2013 MX-5 Miata's Features
Engine Specs: See What's Under the 2013 MX-5 Miata's Hood
Maintaining Your Investment - We're Here to Help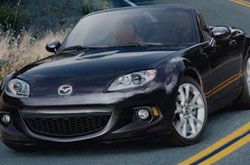 Unlike mom and pop auto centers, our Houston car repair facility offers trustworthy OEM parts, phenomenal Mazda trained technicians and a 12-month long warranty for all services. We're also conveniently planted near numerous neighboring cities. Joe Myers Mazda's auto service veterans will help keep your Mazda MX-5 Miata in muscular working order. We handle a slew of jobs with ease, including Mazda wiper blade replacement, tire rotation and maintenances and, of course, tough tasks like transmission repair - and this is just a small part of what we can take on. It's clear - to get honest prices and masters Mazda repairs, Joe Myers Mazda should be your number one choice when selecting a Houston auto center. The upcoming link is your roadway to ridiculous savings. Click now to be taken to to Joe Myers Mazda's specials.
You can contact our service center 24-7 using our online form