The Mazda MX-5 Miata holds a special place in the hearts of many. For many years now, Mazda's flagship vehicle has been a leader in terms of its power-to-weight ratio and also price-to-performance. That being said, the popular sports car was probably in need of an update, which is exactly what Mazda did for the new 2019 model. Still, you won't see any major differences between the 2018 and 2019 Miata models from the outside, but you will definitely notice some major changes as soon as you step behind the wheel. Let's take a closer look at a few of the improvements that make the 2019 Miata so much more fun to drive.
More Horsepower and Torque Equals Better Speed and Performance
The engine of the 2018 Miata was definitely no slouch. In fact, most drivers seemed fairly satisfied with its output of 155 horsepower and 148 pound-feet of torque. Whether you choose the 2019 MX-5 Miata roadster or the MX-5 Miata RF, you'll have the benefit of 26 more horsepower and 3 more pound-feet of torque compared to last year's model. Still, it is the 181 horsepower of the 2.0-liter SkyActiv engine that really makes the difference, and this is something that becomes noticeable the second you put your foot on the gas.
Newly Designed Engine for Increased Output
When most manufacturers want to make such a huge jump in horsepower, they typically slap on a turbocharger and call it a day. However, Mazda went the alternate route and managed an impressive 17-percent gain in horsepower simply by making a few small, but extremely important changes. The pistons and connecting rods were all lightened to lessen the engine's spinning load, and the engine was also designed for improved combustion. Combine this with the new low-inertia dual-mass flywheel and improved exhaust flow and you have the makings of a truly powerful, impressive engine.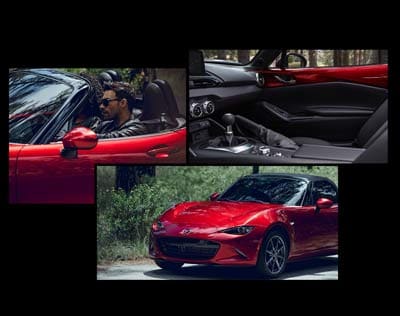 New Steering Column Adds Control and Convenience
Previous versions of the Miata never featured a telescoping steering column or tilt wheel. Nonetheless, this is something Mazda has taken care of on the 2019 Miata, which features both tilt wheel and telescoping steering column as standard. In addition, the vehicle features a new aluminum steering column that weighs much less than the old steel column.
Fuel-Efficient Performance to Save You Money at the Pump
Despite featuring a much more powerful engine, the 2019 MX-5 Miata manages to achieve virtually the exact same fuel efficiency ratings as the previous version. No matter whether you choose the six-speed manual or six=speed automatic transmission, you'll get a decent 26 miles per gallon in the city. On the highway, the automatic achieves a slightly better 35 miles per gallon compared to 34 mpg highway with the manual transmission. While these numbers obviously can't compare to some of the most fuel efficient vehicles on the road, none of those vehicles can provide anywhere near the amount of fun and enjoyment you'll get behind the wheel of the 2019 Miata.
All the Available Features and Amenities You Could Want
If you choose to upgrade to one of the higher level trim packages, you can also take advantage of even more features. Improved safety is possible thanks to options like automatic braking, blind-spot monitoring, rain-sensing windshield wipers, automatic headlights and lane-departure warning. Increased luxury and comfort are also at hand thanks to optional heated seats, nine-speaker premium Bose audio system, satellite radio and much more.
Considering just how many different options you have, it can be helpful to see them all in person. For this reason, don't hesitate to stop by our Mazda dealership or give us a call. We'd be happy to answer any questions you have or to arrange a test drive so you can experience the fun of the 2019 Miata firsthand.