How the 2019 Mazda CX-5 Can Keep You Safe on the Road
The 2019 Mazda CX-5 is a crossover SUV with plenty of space for passengers and cargo. The CX-5 can comfortably transport up to five average-sized adults. It offers 30.9 cubic-feet of storage space with all of the seats in use. When you let down the rear seats, this can be expanded to 59.6 cubic-feet of space. This crossover SUV comes in a 4-door configuration with a rear hatch for easy loading and unloading. It's also a very safe vehicle with a ton of technology to protect you.
Safety technology on vehicles has come a long way. The Mazda CX-5 is packed with modern, high-tech features to keep you and your passengers safe. A rear-view camera is included to make sure you can see clearly behind your vehicle at all times. A blind-spot monitor further improves your awareness while driving. A lane-departure warning gives you a heads up if you veer too far off course. A lane-keeping assist even makes minor adjustments automatically to keep you safely in your own lane.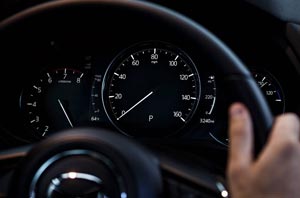 The CX-5 has integrated turn signals on your exterior side mirrors. It also has traction control to make the vehicle safer on slick pavement and in rough weather. A cross-traffic alert gives you yet one more level of situational awareness. Child safety locks are installed in the rear to make sure no one accidentally opens the doors while your CX-5 is on the move. A stability-control system helps you keep control of the CX-5 during any extreme driving maneuvers.
The CX-5 comes equipped with a number of airbags. Two are up front for the driver and front passenger. Also included are front head, rear head and front side airbags. The vehicle comes equipped with 4-wheel ABS brakes and a braking-assist system. Daytime running lamps are added in to increase your vehicle's visibility to other drivers. The CX-5 has been put through various crash tests by the NHTSA. It gets a perfect rating of five out of five stars in overall, front and side crash tests. It scores an impressive four out of five stars in vehicle rollover tests.
The safety features discussed here are just a sampling of what the CX-5 has to offer. If you have any questions or need further information on this topic, please feel free to contact our dealership. Friendly and knowledgeable staff are on hand to assist you in any way possible. Stop by or contact us to find out if the 2019 Mazda CX-5 is right for you.